---
PIKE NURSERY – THE ESSENTIAL FISHERY
At Lervassaviken cove, there is a fishery preservation project underway called "the pike nursery". The aim is to rebuild spawning grounds for perch and pike by clearing brushwood and opening up former wetlands. Once the predatory fish species return, there will be less space for plant algae, the water will be cleaner and the sea will be healthier.
Fishery has always been important for the archipelago residents, and this was also true on Ornö and other islands in Ornö parish.
Fishing was always used for household needs, but commercial fishing also has a long history. Sweden's first fisheries law dates from 1450 and, in fact, refers to the Ornö islands.
The law controlled fishery activities and public order in the Huvudskär fishing port.
Any fish not used for household needs could often be sold far beyond the Ornö islands and had to be salted for storage and transport. As early as the Middle Ages, herring was salted and stored, and transported by rowboat or sailboat to trading stations, where fish was traded for other goods, often deep into Lake Mälaren. Fish from the islands could be traded there for rye from the fertile farmlands in the Mälaren Valley. There was an abundance of fish in the sea, but arable land for growing bread grain was scarce.
As the city of Stockholm grew bigger, demand by city dwellers increased for fresh fish from the islands. However, it was too far to transport fresh fish by boat. Live fish was sold to the buyers instead, who shipped them to the city in sailboats especially equipped to hold live fish. Herring was most often salted, while perch, pike and whitefish were often sold live.
This changed in the late 1800s, with the event of steam ships. Fish no longer needed to be salted for shipping and sailboats also had had their day. In the 1930s, the fishermen in the Stockholm archipelago joined forces and organised joint sales and transport of fresh fish to Stockholm.
Many fisheries arranged their own motorboats and brought the fish to Dalarö in wooden crates marked with the Stockholm County fish sales association brand. There, the fish was loaded onto trucks and driven into Stockholm to be sold in markets, and to food stores and restaurants.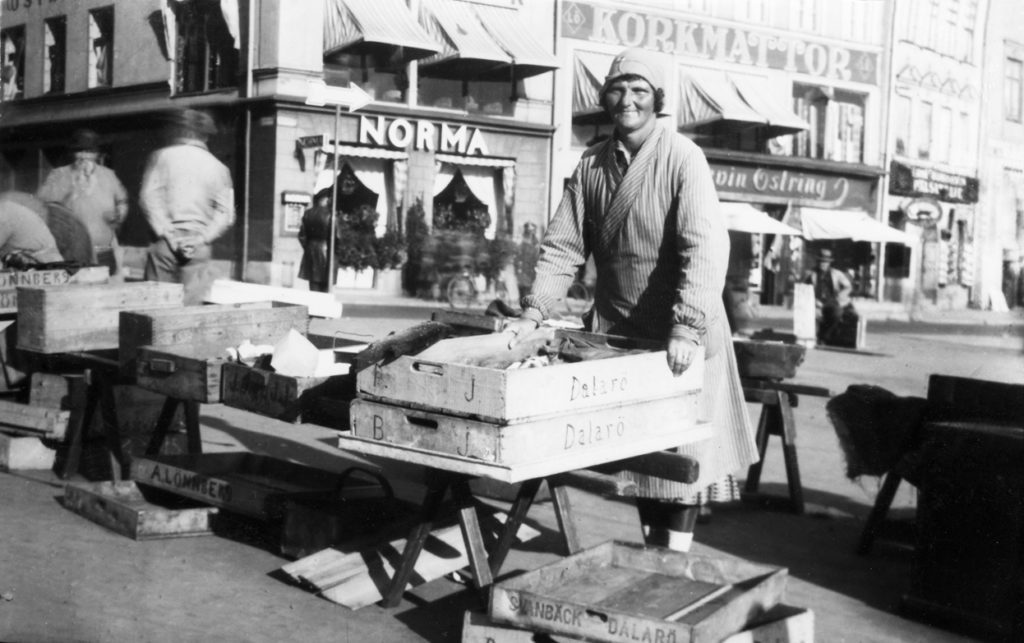 Beda Jakobsson from Ornö selling fish at Kornhamnstorg in the mid-1920s.
In the 1900s, fishing became increasingly industrialised, and coastal island fisheries have nearly disappeared, to be replaced by large ships for fishing further offshore.
However, Björkö, just west of Ornö, is home to one of the last remaining professional fisheries on the islands – Anders Jansson and Björkösunds Fisk. Anders catches wild fish, keeps a small scale salmon nursery, and is also involved in the establishment of the pike yard that is emerging here.
Lervassa Trail was produced by Ornö Museum in collaboration with Stockholms läns Hembygdsförbund and with funding from the Swedish National Heritage Board.