---
· Start · Previous sign · Swedish
ORNÖ SCHOOL – FROM PARISH CABIN TO NEW BUILD
Ornö School is a public preschool and primary school up to year 6. In 2020, a completely new school building awaited pupils and teachers.
In 1842, 4-year general elementary school was introduced in Sweden.
On Ornö, a school room was arranged in the parish cabin and a teacher was recruited to the island. It was hard for a parish as small as Ornö to afford the teacher salary, but this was made possible through government grants. In addition to a cash salary, the teacher was also given the use of the parish cabin as living quarters, and summer pasture and winter feed for one cow.
Lessons began in autumn 1845, but pupils were scarce. Many pupils had a long and difficult way to school and parents were often unwilling to let their children attend school, since they were needed for work at home. At the end of autumn term in 1856, two girls received a prize for good behaviour and regular attendance. They had attended school for three weeks in total during the term.
To address this problem, a "rotating school" was introduced for the youngest children. The teacher for the youngest grades simply rotated between the farms to teach and part of the salary was supplied in the form of room and board. This system did not work very well and was abandoned in 1884.
Attracting teachers to Ornö was a challenge, and eventually, in 1900, the school was closed. The following year, rescue came in the form of Anders and Kerstin Fridéen. Kerstin was a primary school teacher and Anders was an elementary school teacher, and they remained at Ornö for many years.
In 1864, when Klockargården was built to function as the new elementary school and teachers' accommodation. However, in the early 1900s, the need for a larger school building grew. The Countess at Sundby donated standing timber, which the local farmers felled, squared and delivered to the construction site. This way, the parish got a school for little cost. It was completed in 1907.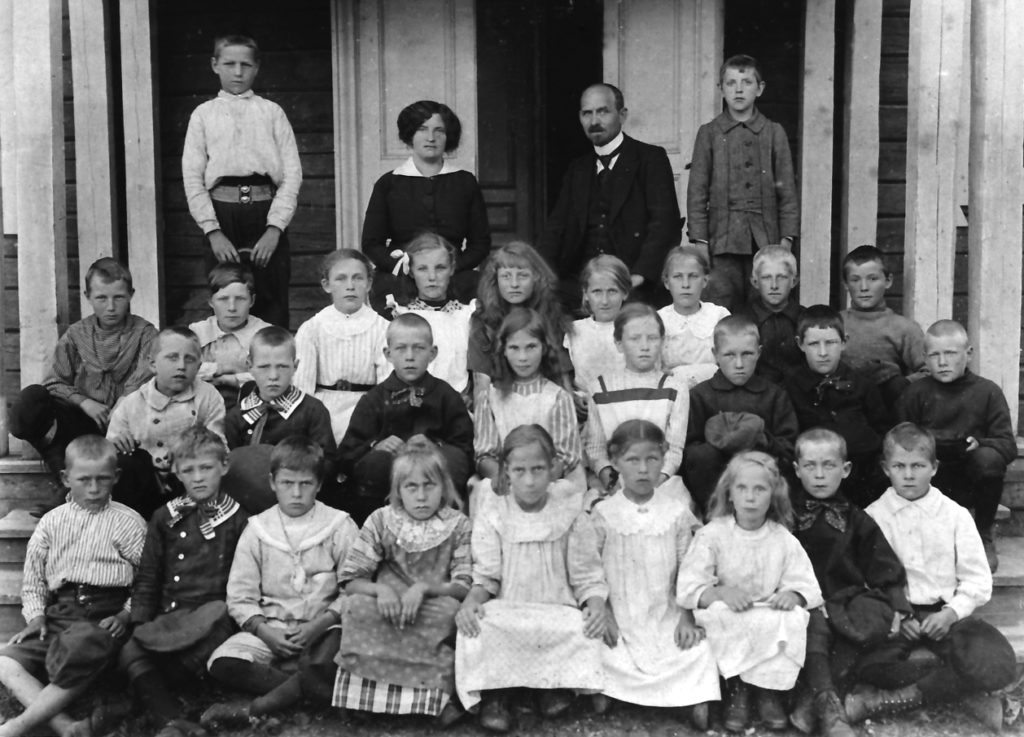 The Fridéen teachers with their pupils, Ornö School, 1913.
In 1929, a new teacher at Ornö School, 25-year old Filip Olsson, would become a pillar of the community important on the island. As was customary, he also served as the parish clerk and organist. Filip Olsson stayed at Ornö School for 40 years. He was a musician, and his songs about Ornö and life on the island are still played today.
In the 1960s, the school was threatened with closure.
When the feldspar mine was closed, many jobs disappeared, and in 1968 only a handful of pupils remained at the school.
Government grants required a minimum of eight pupils, and the school was given a two-year exemption, in part pending new jobs that were expected to emerge due to the burgeoning summer cottage area.
The school was saved, and has plenty of pupils now.
In 2015, Haninge municipality decided to renovate Ornö School. In the end, the school building was condemned and demolished, and made way for an entirely new school house.
Lervassa Trail was produced by Ornö Museum in collaboration with Stockholms läns Hembygdsförbund and with funding from the Swedish National Heritage Board.