---
· Start · Next sign · Previous sign · Swedish
KOVIKEN – COWS, CROFTERS, AND NOBLEMEN
This area is called Koviken (Cow Cove) because the cows from the former Lervassa farm used to graze here in the 1900s.
It was not uncommon for the cattle to graze along the shores and eat reeds, but they have also shaped nature and the cultural landscape further inland.
Besides from fishing, farming has always been an important source of food and income for the islanders. However, the small areas and the poor soil are not suitable for large-scale agriculture. This is why Ornö farmers have mainly kept livestock of different kinds.
We don't know for sure how long people have lived on Ornö, worked the land and kept domestic animals. The first written reference to established farming on the Ornö islands can be found in a letter of admonition, dated 1409, which mentions a farm on Björkö. Nearly 70 years later, an urbarium from 1476 contains a register of Laurens Axelson Tott's "estate" which "lies in the skerries". The register lists eleven crofts and farms on today's Ornö.
By then, a large part of Ornö already belonged to the privileged classes, and throughout history farmers have not owned their land, but have leased it from noblemen or from the church. Right up to the late 1800s, the landowners seldom resided on the island. Several of the former owners of Sundby estate also owned several properties on the mainland and left the practical running of the estate on Ornö to the supervisor and the tenant farmers.
Despite the poor soil, some grain was cultivated – mainly rye for baking bread. In the early 1800s, the potato made its entrance in these parts, and also became popular on Ornö. Potatoes provided more food on less land and for less effort.
Cattle and sheep were the main farm animals on Ornö. The animals roamed more or less free as long as there was pasture in the paddocks and woods.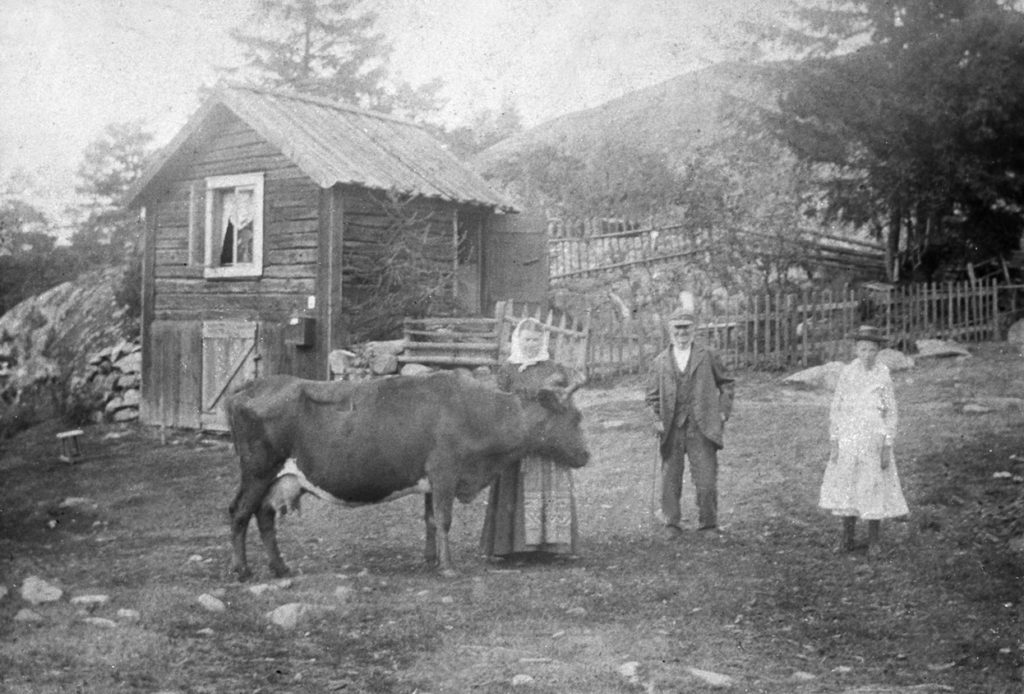 Silverberget, 1910.

They were often shipped to some smaller island, where they grazed for a shorter or longer part of the summer.
Milking the cows meant rowing out to the island morning and evening.
Winter feed was gathered from nature: hay from the meadows, reeds from the coves and leaves from the trees. Cows were kept primarily for milk, but also for meat. Bull calves were left to grow up and were then sold or butchered. A few were castrated and lived their lives as draught animals. Sheep were kept mainly for their wool, but also for meat.
Today, Hässelmara farm, Lindviken and Sundby keep cattle and sheep that graze in the meadows, and thereby helping to maintain the historical meadowlands. The best example of this is Mane äng in Sundby nature reserve, south of Maren.
Lervassa Trail was produced by Ornö Museum in collaboration with Stockholms läns Hembygdsförbund and with funding from the Swedish National Heritage Board.