---
· Start · Next sign · Previous sign · Swedish
VARGVIK – COMMERCE AND SHOPS
In Vargvik, there used to be a marine petrol station that belonged to the grocery store by the main road. The grocery here was the last surviving store among all the old grocery stores, kiosks, stalls and service stations that have existed on Ornö over time.
Until the mid-1800s, the guild system and trade privileges set strict limitations on who was permitted to conduct commerce and with which goods. Anna Sofia Gumaelius applied for and was granted permission to carry on trade on Ornö as early as 1864, but no store was established. Instead, the Sundby gardener, Carl Martin, was the first to carry on trade in the Lervassa shop. You will pass by the remains of this shop where the Lervassa Trail meets the road.
The Vargvik grocery opened in the late 1800s and was operational until 2012. For the last ninety years, the grocery was run by the Sjöberg family under the name O. Sjöberg Skärgårdshandel. In 1996, second-generation Karl-Oscar Sjöberg said:
"Before the age of electricity, storing fresh produce was a challenge. We had an icebox in the store. The ice was sawed, delivered by Varnö farmers and stacked by a stack above the grocery store. The ice was then covered by a thick layer of woodshavings."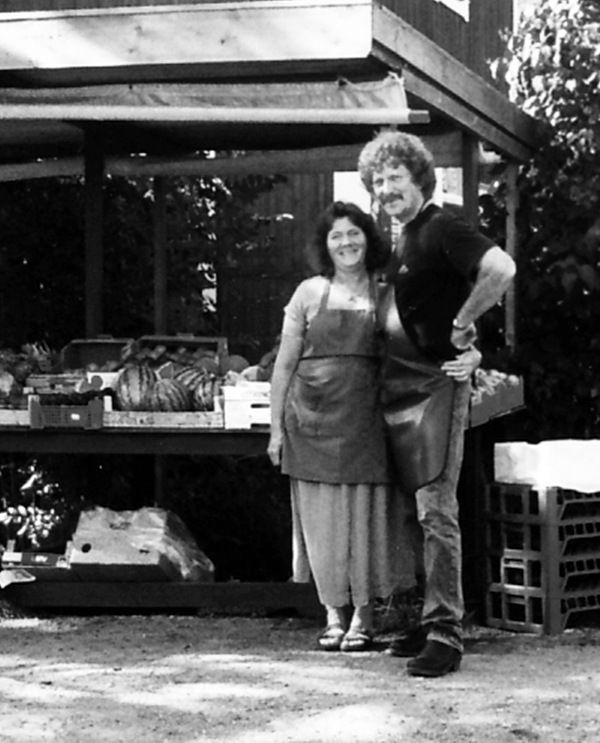 Eva and Hasse, third-generation Sjöbergs, 1999.

For a long time, there was an old-fashioned general store in Lättinge that sold all sorts of goods from paint, carpentry items, comic books, plastic toys, milk, to canned meat.
In 1957, the women's magazine Femina described a winter visit to the shop: "Naturally it is troublesome when the ice puts a stop to the delivery of supplies, but for generations, the island inhabitants have learned to cope when the waters freeze over. Customers can always resort to herring or some other salted fish in a pinch, says Mrs Karlsson, who used to live on the mainland."
A new generation took over in 1964. Vasty and Karl-Inge Karlsson ran the shop until Karl-Inge passed away in winter 2009.
Summer guests meant new customers, and in 1976, a summer kiosk was opened in Brevik by the enterprising Ekblom couple, who were also in charge of the post service in the Ornö islands, among many other tasks. Eventually, the tiny kiosk grew into a well-assorted shop with an eatery and a minigolf course. However, trouble with goods transport also led to its closure in the early 2000s.
Today, service on Ornö is mostly centered around the Kyrkviken area. Ornö community centre houses a grocery store that is linked to the Ornö petrol station, down by the jetty.
Lervassa Trail was produced by Ornö Museum in collaboration with Stockholms läns Hembygdsförbund and with funding from the Swedish National Heritage Board.